Pharmacogenomic Testing
Our mission is to serve as a trusted partner to physicians, healthcare professionals and patients by providing quality testing services. Pharmacogenomics is being implemented into routine clinical practice as the medical and pharmaceutical industries move from a one-size-fits-all model to a personalized medicine approach. PGX testing can improve medication management by reducing trial and error prescribing, minimizing adverse drug reactions, improving medication compliance and quality of life, and managing health costs.
99% of the population carries at least one mutation that affects drug metabolism.
Test Report
Clinically actionable information

Clear and concise reporting

Evidence-based recommendations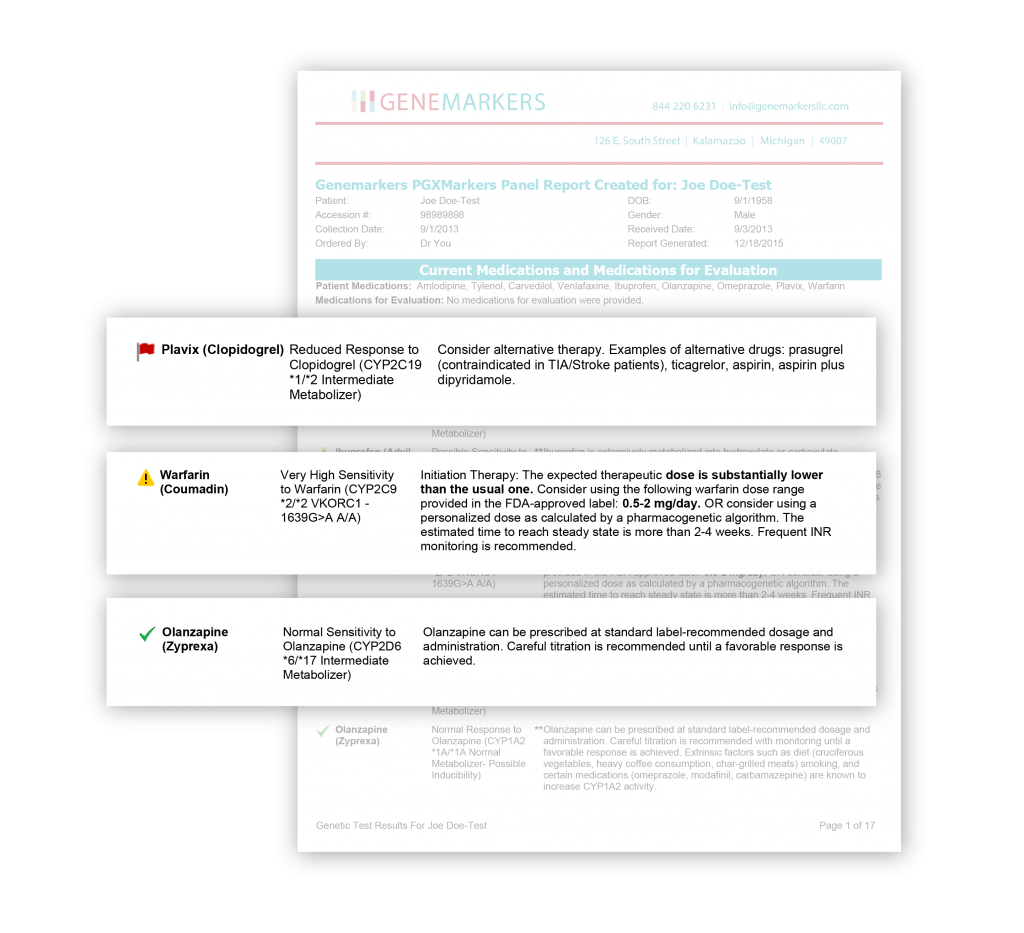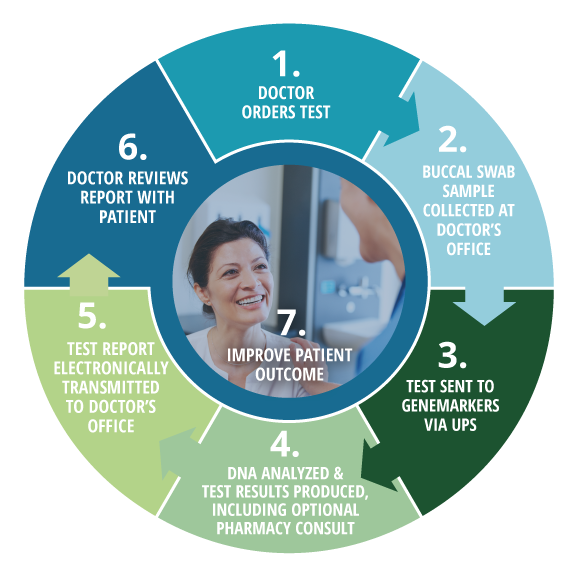 Testing Process
Our testing process is quick and easy. Once a licensed provider orders the test, the sample can be collected in the provider's office. The Test Report is available within 7-10 days.
Highlights:
Non-invasive cheek swab that can be collected in the provider's office

Easy access to reports through our secure online portal

Capable of integrating with electronic health record systems
Genemarkers is committed to providing patients with quality service, which includes ensuring a clear understanding of the billing process and access to a manageable payment arrangement. Most insurance plans, including Medicare and Medicaid, offer limited coverage of the test.
Self Pay
Genemarkers offers an affordable self-pay rate for each one of our panels for patients who are uninsured or those who have insurance and prefer not to bill their plan.
Commercially Insured
(including Medicare Advantage Plans)
Genemarkers will submit the insurance claim on behalf of patients.
After the insurance claim has been processed to the fullest extent, Genemarkers will bill patients for any out-of-pocket expenses. Genemarkers will bill patients for the amount determined by their insurance plan. This may be related to co-payments, co-insurance or deductibles.
Genemarkers has several options to help alleviate any financial burden due to out-of-pocket costs.
Traditional Medicare
PGX testing for most medical conditions is not currently covered by Medicare. Patients will need to sign an Advance Beneficiary Notice of Non-Coverage (ABN). If the test is not covered, the patient will be financially responsible. Patients can receive the self-pay rate if they elect not to bill Medicare and pay for the test out-of-pocket.
Medicaid
Genemarkers currently accepts Medicaid from several states. If the test is covered, there are no out-of-pocket costs.
Financial Assistance
Genemarkers has several financial support options to help alleviate any financial burden due to out-of-pocket costs, including:
prompt-pay discount
 zero interest payment plan
financial assistance plan for those who meet income-based guidelines
Request a testing kit today
or reach out to learn more!