Pharmacogenomics Testing
Our mission is to serve as a trusted partner to physicians, healthcare professionals and patients by providing quality testing services. Pharmacogenomics testing can improve medication management by reducing trial and error prescribing, minimizing adverse drug reactions, improving medication compliance and quality of life, and managing health costs.
How will testing help me?
This test will help your physician prescribe medications and doses of medications that will work best for you. Your DNA does not change so this test is only performed once in your lifetime. Your doctors can use the test results as your health conditions and medication needs change.
This test will help to:
Reduce unwanted side effects

Help your physician select the most effective drugs

Help your physician select the correct dose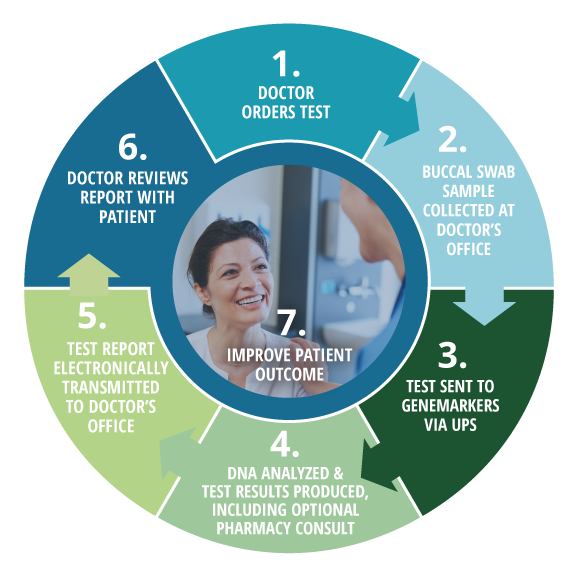 Testing Process
Our testing process is quick and easy. Once a licensed provider orders the test, the sample can be collected right at your provider's office. Test results are available quickly for your provider to review and make any necessary changes to your medications.
Highlights:
DNA is collected by a simple swab of the cells from the inside of your cheek

Sample can be collected right in your provider's office

Genetic information is kept private according to HIPAA and federal guidelines
Genemarkers is committed to providing physicians and patients with quality service, which includes ensuring patients have a clear understanding of the billing process and establishing a manageable payment arrangement.
Claim Submission

Once your test results are sent to your physician, our billing department bills your insurance company for our services using industry-compliant billing practices.

Claim Review

After your insurance company reviews the information (this may take up to 30-90 days), your insurance company will send you an explanation of benefits (EOB) detailing the allowable charges for the services and how much will be covered based on your policy coverage. The EOB is NOT a bill.

Claim Appeal

Genemarkers will appeal appropriate cases as necessary. This process varies by insurance company and you will receive a second EOB.

Claim Assistance

You may receive a bill from Genemarkers for your co-pay or deductible amount. If you have any questions about your bill or cannot pay your bill, please contact our billing department by phone at 844-220-6231. We work around a patient's financial ability to pay and will work directly with each patient to settle their account, including setting up payment plans. In the case of financial hardship Genemarkers offers special pricing. Please contact us to receive the hardship waiver.

If you are a patient with Medicare:
A completed ABN is required. The ABN explains the test and possible patient responsibility.
If you are a patient with Group or Individual Insurance:
Co-pays, co-insurance, and deductibles may apply. Balances billed to the patient will be determined by the patient's insurance plan. A payment arrangement may be negotiated for individuals with financial hardship.
Any questions?
Please contact us at 844-220-6231.
Billing Policy
Required Forms
In order to properly bill for your test, we need the following information. Some policies may require prior authorization. Genemarkers will assist with this process.
• Letter of Medical Necessity
• Advance Beneficiary Notice of Noncoverage (ABN) (Medicare patients)
• Copy of Insurance Card
Contact us to learn how to get tested