Pharmacogenomics Testing
Our mission is to serve as a trusted partner to physicians, healthcare professionals and patients by providing quality testing services. Pharmacogenomics is being implemented into routine clinical practice as the medical and pharmaceutical industries move from a one-size-fits-all model to a personalized medicine approach. PGX testing can improve medication management by reducing trial and error prescribing, minimizing adverse drug reactions, improving medication compliance and quality of life, and managing health costs.
80% of the population carries at least one mutation that affects drug metabolism.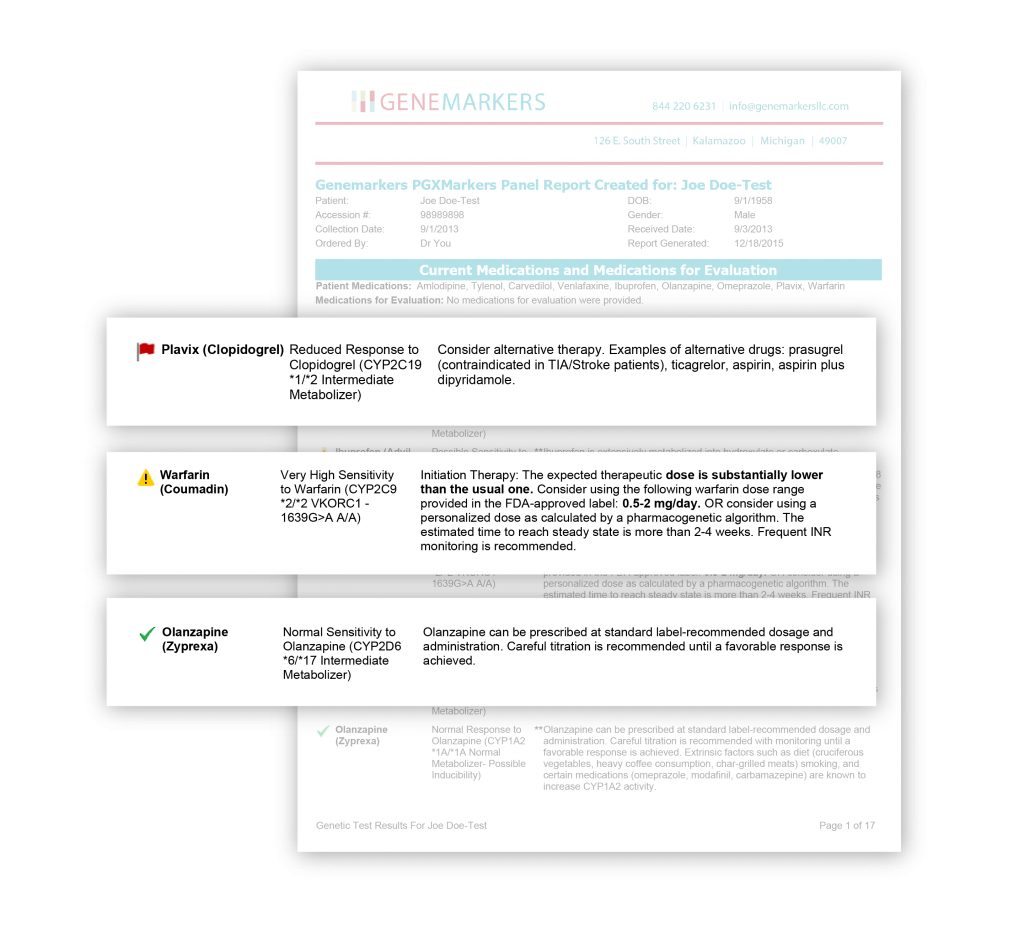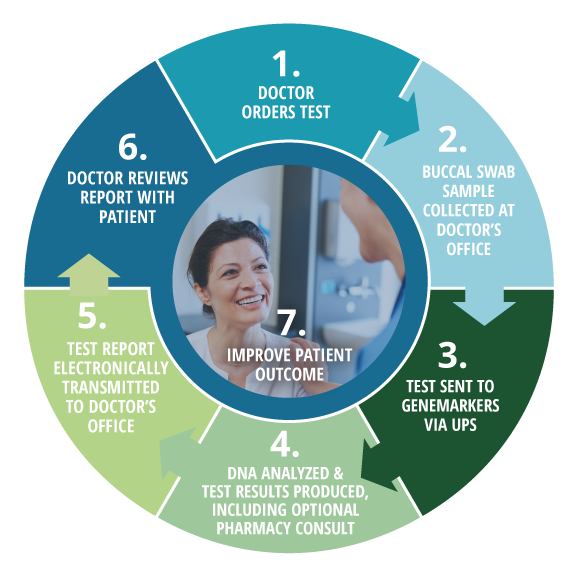 Testing Process
Our testing process is quick and easy. Once a licensed provider orders the test, the sample can be collected in the provider's office. The Test Report is available within 7-10 days.
Highlights:
Non-invasive cheek swab that can be collected in the provider's office

Easy access to reports through our secure online portal

Capable of integrating with electronic health record systems, in partnership with MedTek21
Genemarkers is committed to providing physicians and patients with quality service, which includes ensuring patients have a clear understanding of the billing process and establishing a manageable payment arrangement.
Claim Submission

Once your test results are sent to your physician, our billing department bills your insurance company for our services using industry-compliant billing practices.

Claim Review

After your insurance company reviews the information (this may take up to 30-90 days), your insurance company will send you an explanation of benefits (EOB) detailing the allowable charges for the services and how much will be covered based on your policy coverage. The EOB is NOT a bill.

Claim Appeal

Genemarkers will appeal appropriate cases as necessary. This process varies by insurance company and you will receive a second EOB.

Claim Assistance

You may receive a bill from Genemarkers for your co-pay or deductible amount. If you have any questions about your bill or cannot pay your bill, please contact our billing department by phone at 844-220-6231. We work around a patient's financial ability to pay and will work directly with each patient to settle their account, including setting up payment plans. In the case of financial hardship Genemarkers offers special pricing. Please contact us to receive the hardship waiver.

If you are a patient with Medicare:
A completed ABN is required. The ABN explains the test and possible patient responsibility.
If you are a patient with Group or Individual Insurance:
Co-pays, co-insurance, and deductibles may apply. Balances billed to the patient will be determined by the patient's insurance plan. A payment arrangement may be negotiated for individuals with financial hardship.
Any questions?
Please contact us at 844-220-6231.
Billing Policy
Required Forms
In order to properly bill for your test, we need the following information. Some policies may require prior authorization. Genemarkers will assist with this process.
• Letter of Medical Necessity
• Advance Beneficiary Notice of Noncoverage (ABN) (Medicare patients)
• Copy of Insurance Card
December 15, 2016, The Journal Gazette – Manchester University, RxGenomix and the American Pharmacists Association have teamed up to offer online training in pharmacogenomics (PGx). RxGenomix is working with the northeast Indiana university to help pharmacists and pharmacy students understand the fundamentals of PGx. […]
November 17, 2016, Genome Web – After successfully rolling out a program that provided free pharmacogenomics profiling for newborns, the Inova Translational Medicine Institute is now offering PGx analysis for its adult patients. Currently, the PGx test, known as MediMap, is available through Inova's concierge medicine program, but John Deeken, Inova's chief operating officer, told GenomeWeb that the institute is working out details to offer it more broadly. […]
September 21, 2016, JAMA -What if there were a way to know if a depressed patient would respond to an antidepressant—before it was prescribed? Or to predict a bleeding event from an antiplatelet therapy? In recent years, advances in genetic testing have made such drug-response predictions possible for patients with certain gene variants. […]
September 13, 2016, Monthly Prescribing Reference – If fluoxetine is prescribed to a patient known to be a poor metabolizer of CYP2D6, should the dose be reduced or an alternative medication prescribed? […]
Request a testing kit today
or reach out to learn more!